Today has been a pretty long day. I worked all day, which was fun and all, but then I came home and realized that Gentleman and I had been busy formatting hard drives on my computer so I had to re-install a bunch of programs. Plus here in about 15 minutes, I have one of my final two classes for my degree! I'm excited but apprehensive as well. I mean, I'm happy to be done with school and all but man, those student loans are going to kick my butt.
One of the things I thrive on is routine, if I'm being honest. I know many folks do, but I find a very nice pleasure in stability and predictability. For instance, I have been living with my boyfriend for approximately a month now. I know that every Monday through Friday, my son and I will get up at 7am and we will get ready for school. I will take him to school, come home, get ready for work, then go to work. I'll come home for lunch, either cook something up or warm something and shove it down my throat (depending on the amount of time I have!). After work, I get Monster, come home, do homework with him, ensure that he does his chores, then get started on supper.
It all follows a nice flow and pattern throughout the day. There are, of course, variances and moments of spontaneity from time to time, but for much of the day I know what's going to happen and when. Is that bizarre? Probably a bit. Ah well, c'est la vie. I know that every Saturday night, I will get to work on the menu for the next week. Then I'll build the grocery list in Google Drive and share it with the boyfriend. Sunday, we'll do the shopping. It's all very nice, very relaxing and very comfortable. I'm quite happy and, to my surprise, he is too.
I don't know if I've spoken about it much here as it's such a public space, but I did/do find the prospect of living with someone very unnerving. You can't predict what will happen, you know? I've shared my living space with someone really once or twice before. I guess it depends on what you count as living together. When I was much younger, I lived in my father's house while he was an over-the-road truck driver and cared for my brother. By "cared for my brother", it really was just me making sure he got to school and stayed out of trouble. It was lovely though because it was stable.
Anyways, I suppose the point I'm trying to make is that this new routine, while it's been an adjustment for Monster and me, has been great. It's a great environment, a healthy situation and I'm very happy to be in it.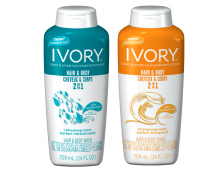 I was sent Ivory 2-in-1 Hair & Body Wash free from Influenster. Since then, I've been trying it out and comparing it to my other shampoo and body washes. I've also been encouraging Monster to use it. So far, we've both really been enjoying it. I love the way that it smells and makes my skin feel. Too many soaps that I've used leave my skin feeling really dried out.
You see, I have really sensitive, dry skin and because of that, I usually have to use soaps that are moisturizing or something so that I don't constantly have gross, dry, painful skin. However, for me, Ivory's 2-in-1 Hair & Body Wash has really worked well! My skin feels soft and "touchable", as they say. It smells amazing, in my opinion. It is a bit of a strong smell, so if you're opposed to strong fragrances this is definitely not the hair/body wash for you. I don't mind it though and I don't believe that it makes you have a strong fragrance. At least nobody has complained about it so far!
There's also a really cute video that I watched this morning from Ivory's Facebook page. You can find it by clicking here. So, check it out and let me know what you think about it. I don't usually use 2-in-1 hair and body washes, so I was pleasantly surprised. Have any of you guys tried it out?
When I was younger, I used to collect coins of various denominations with the birth years of my family. For instance, I had a quarter, nickel and dime that were all from 1988. My brother was born in 1988, so I felt like they were special to me. As the years go by, it seems that Monster is interested in collecting coins too. They just happen to be a modern coin. He likes to collect coins and save them in a jar. He's saving up for a Minecraft account, so he says. We'll see how well that works out for him! He keeps wanting to spend the money but then realizes he'll have less money!
While I am nearly finished with finals, a lot of my coworkers and friends are gearing up for their finals. It is so stressful. While I only had a few "easy" things to do this term for my final, my friends are stressing out about theirs. I've been checking obsessively, waiting for my grade on my final though. I'm so worried that I did poorly. Realistically, I'm sure I did fine but I won't be settled until I know for sure what my grade is. Ugh! I do not envy my professor's jobs, especially around finals time. It must be very hard for them. I don't know any professors personally, but it seems like it'd be a really frustrating or time consuming time.
I recently moved, if you hadn't heard through Twitter/Facebook, and I am so thankful that most of the apartment is hardwood floors or linoleum. That means that I won't have to vacuum very frequently since basically the bedrooms are the only places with carpet. Well, the bedrooms and my gigantic walk-in closet. I swear, that walk-in closet is like an entirely different room. I could totally house Monster in there or something. Well, I mean, that would probably be bad. Anyways, my point is that I won't be having to search for "carpet cleaning chapel hill nc" any time soon, thank goodness. Though we have already had one spill. Thankfully, it was a small tea spill. C'est la vie.
Things have been nutty lately. Guess what? I'm moving! Staying within town, which is cool and all, but it's still stressful. Anyways, in the process of moving I've gotten a bit lost. What's in what apartment? You know what I mean? What I really should have done was sort out a order management workflow before getting started. This would have probably saved me a lot of time in the long run. Ugh. Hindsight is 20/20 but things will work themselves out. I've got a great support system that's helping me move here. They're the best! I actually spent most of my afternoon today moving stuff that I could fit in my car. Another batch will likely be moved Friday and then this weekend, hopefully we'll get the big things moved. I didn't realize I had so much stuff. Where did it all come from?!
Anyways, right now I'm juggling work, school, relationship, little kid, cats, and moving. It's quite a bit going on but I think I'm handling it alright. Let's hope things continue to go well!
Published by
Stacy
on March 20, 2013
Today I was driving home and I was thinking about different driving attitudes among my friends and I. I have one friend who is a very aggressive driver. He will speed, get on people's tails, weave in and out of traffic, and slam on his brakes. I guess I should replace aggressive with wreckless. I don't drive with him if I can help it. I have another friend who is a very cautious driver. He obeys traffic laws, gives people space on the road and uses his brakes appropriately. I feel completely comfortable having my son in the car with him. I try to obey all of the traffic laws, give people enough space, and treat others kindly while driving, which I talked about a little earlier this month in my blog about Lubbock drivers. However, my thinking today reminded me of a comedy show that I used to watch.
My family was big fans of Jeff Foxworth and Bill Engvall and similar comedians. I believe some of them still are, but I'm only sort of a fan. It's just not the comedy that I like any more. Anyways, towards the end of their Blue Collar Comedy Tour Rides Again show, they do a section called "I Believe". It's embedded below.

Around the 5:57 mark is when he starts talking about it.
If you don't want to watch the video, he says "I believe that if you let somebody cut in front of you in traffic and they don't give you the little "wave", it should be perfectly legal to get up underneath 'em, get 'em loose, and put 'em into the wall." For whatever reason this struck me this morning while I was letting someone cross over a few lanes in front of me. Not many people in Lubbock give the 'wave' and that's okay. If that was the biggest of my problems with Lubbock drivers, I'd be in heaven. But I was thinking about why we expect the person to do the thank you 'wave'. Is it because we expect a reward for being nice? Shouldn't we be nice and courteous to others for the sheer sake of being nice and courteous?
Published by
Stacy
on March 15, 2013
I have a running wishlist for myself. Things I'd love to buy for my new home.. things I'd love to buy Monster.. things I want to buy for the animals or my friends or my other family.. Just running wishlists of things that I'd like to buy in general. I got to thinking about musicians and what they might have on their wishlists. I can imagine seeing things like "buy this guitar" or "buy pbone" or "get new sheet music". What do you think a musician would have on their wishlist?
Published by
Stacy
on March 15, 2013
You all may be aware that Monster had surgery last summer. He'll have another surgery this upcoming summer. However, this spring we have different family members getting surgery. Our cats! They are two years old now and have yet to be fixed. They are purely indoor cats, but we still need to have it done. We just haven't had the money to do it until now. In Lubbock, spaying one cat costs between $100-$300 dollars. Back in my hometown, you could get your cat spayed for $50 bucks. I do wonder why it's so expensive down here, but oh well.. at least it'll be done finally. I'll be very, very happy!